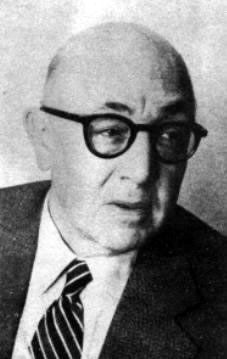 Biografia
Compositor, musicólogo, profesor y crítico musical. Nacido en Buenos Aires el 22 dc enero de 1911. Estudios en la Escuela Argentina de Música (Julián Aguirre, Ricardo Rodríguez, Rafael González y Juan José Castro) y el Conservatorio Nacional de Música (José André, Floro M. Ugarte, José Gil y Constantino Gaito); en Paris estudió con el pianista Yves Nat. Rector del Conservatorio Nacional de Música (1972-79), Profesor de Composición en el Conservatorio Municipal de Música y el Antiguo Conservatorio Beethoven; crítico musical del diario La Nación (1938-79); miembro de la Comisión de Música Sinfónica y de Cámara de SADAIC, vicepresidente primero de la Asoc. Argentina de Compositores. Fue presidente de la Unión Compositores de la Argentina; miembro del Senato Académico del Centro Internazionale di Studi Musicali (Roma); Sociedad Internacional de Musicología, e Internationale Gesellschaft fúr Urheberrecht (INTERCU) de Munich. Beca: Dante Alighieri (1952). Integrante en numerosas oportunidades de jurados en concursos internacionales (Río de Janeiro, Taormina, Montevideo, etc.), nacionales, municipales y privados.

Premios otorgados por la Comisión Nacional de Cultura, Municipalidad de la Ciudad de Buenos Aires, Asoc. Wagneriana, SADAIC, Rotari Club, etc. Encargo de obras formulados por Radio Nacional, Asoc. de Conciertos de Cámara, Asoc. Amigos de la Música, Festival de Música de Tucumán, Asoc. El Piano, Asoc. Argentina de Compositores, Fabien Scvitzky (Festival Tchaikowsky 1959), Municipalidad de la Ciudad de Buenos Aires, Teatro Colón, Yacimientos Petrolíferos Fiscales, Asoc. Amigos del Coro Nacional de Niños, y IV Festival Interamericano de Música (Washington). En sus primeras obras pueden advertirse influencias de Scriabin, Stravinsky, y coincidencias con el impresionismo francés y Manuel de Falla
Falleció el 26 de Octubre de 2003

Extraido de "La Guia de la Música Argentina" (1983) del Instituto Lucchelli Bonadeo
Biography
Composer, musicólogo, professor and critical musical. Born in Buenos Aires the 22 dc January of 1911. Studies in the School Argentina of Music (Julián Aguirre, Ricardo Rodríguez, Rafael González and Juan José Castro) and the National Conservatory of Music (José André, Floro M. Ugarte, José Gil and Constantino Gaito); in Paris he studied with the pianist Yves Nat. Rector of the Conservato laughs National of Music (1972-79), Professor of Composition in the Municipal Conservatory of Music and the Old Conservatory Beethoven; critical musical of the newspaper The Nation (1938-79); member of the Commission of Symphonic Music and of Camera of SADAIC, first vice-president of the Asoc. Argentina of Composers. It was president of the Union Composers of the Argentina; member of the Academic Senato of the Center Internazionale di Studi Musicali (Rome); International Society of Musicología, and Internationale Gesellschaft fúr Urheberrecht (INTERCU) of Munich. It grants a scholarship: Dante Alighieri (1952). Integral in numerous opportunities of juries in international competitions (Rio de Janeiro, Taormina, Montevideo, etc.), national, municipal and private.
Prizes granted by the National Commission of Culture, Municipality of the City of Buenos Aires, Asoc. Wagneriana, INC DAIC, Rotari Club, etc. Responsibility of works formulated by National Radio, Asoc. of Concerts of Camera, Asoc. Friends of the Music, Festival of Music of Tucumán, Asoc. The Piano, Asoc. Argentina of Composers, Fabien Scvitzky (Festival Tchaikowsky 1959), Municipality of the City of Buenos Aires, Theater Columbus, Fiscal Oil Locations, Asoc. Friends of the National Choir of Children, and IV Interamerican Festival of Music (Washington). In their first works influences of Scriabin, Stravinsky, and coincidences can be noticed with the impresio French nismo and Manuel de Falla


He dies October 26 2003

Extracted of The Guide of the Music Argentina" (1983) of the Institute Lucchelli Bonadeo

Works

Operas:
El caso Maillard, op. 41(1972-5) Arkady, el mexicano, op. 46 (1980-81)
Ballet:
Usher, op. 8 (194041)
Harníd op. 9 (1941)
Moriana op. 23 (1957-58)
La máscara y el rostro, op. 33 (1963)
Argentina 1860 op. 43 (1979-80)
Música de escena:
Música para cine:
Juvenilia (1942)
El tercer huésped (1946)
Esperanza (1949)
Música sinfónica:
Poema para orquesta (1932)
Berseker op. 1 (1932)
Suite de Usber op 8 bis (1940 - 41)
Suite de Harrild op. 9 bis (1941)
Tres pinturas de Paul Klee op. 12 (1944)
Movimiento sinfónico op. 15 (1946)
Primera sinfonía op. 17 (1946 - 48)
Ricercar-coral op. 19 bis, para cuerdas (1950 - 51)
Obertura para un drama romántico, op.21(1954)
Segunda sinfonía op. 22 (1954 - 55)
Variaciones Olímpicas op. 24 (1958)
Elegía sobre el nombre de Tchail:owsky op. 27 (1959)
Tres pinturas de Piet Mondrian op. 29 (1960)
Tercera sinfonía op. 30(1961)
Divertimento sobre temas de Paul Klee op. 37 bis (1970)
Ciclo de Dante Alighieri, para orquesta de cámara op. 38 (1970)
Dyonisos op 30 bis (1971)
Homenaje a Manuel de Falla op. 40, para vientos y percusión (1971)
Música orquestal con solistas:
Concierto para piano y orquesta op. 6 (1937 - 39)
Concierto para 3 clarinetes y cuerdas op.11(1943)
El Tamarit, cantata de cámara op. 20 (1953)
Romances del Amor y la Muerte, op. 28 (1959)
Música para oboe y orquesta op. 32 (1962)
Cantata de los Caballeros op. 34 (1965)
Música para violín y cuerdas op. 35 (1967)
Sexta cantata (Cantata de Navidad) op. 42 bis (1976)
Música orquestal con solistas y coro
Marín, cantata op. 18 (1948 - 50)
Séptima cantata (Corrido de Leandro Rivera) op.44(1981).
Música de Cámara
Cuarteto con piano op. 5 (1935-37)
Las pinturas negras de Goya ,op.7 1939)
Cuarteto de arcos op. 19 (1950-51)
Divertimento) sobre temas de Paul Klee op. 37 (1967)
Música para piano.
Cuentos para niños traviesos, 2 series (1932y 1953)
Tres piezas op. 2 (1933)
Conjuros op. 3 (1934)
Pos sonatas op. 4(1935)
Variaciones 1942 op. lO (1942)
Variaciones 1944 op. 13 (1944)
Tercera sonata op. 14 (1944 - 45)
Esquernas op. 16(1946)
Variaciones Apolíneas óp. 25 (1958 - 59)
Cuarta sonata op. 26 (1959)
Quinta sonata op. 31(1962)
Serenata (Homenaje a Debussy) op. 36 (1968)
Música para dos pianos:
Música para órgano
Música para canto y piano.
Música para coro:
Transcripciones
Obras literarias:
Libros:
Mussorgsky (¡943)
Rimsky-Korsakoff (1945)
Las sonatas para piano de Scriabin (1935-1936)
Estudios sobre danza, en colaboración con Dora Kriner (1948)
Siete músicos europeos (1949)
Carlos Chávez (1960)
En preparación: Estudios sobre música argentina.
Traducciones: