Biografia

Nació en Buenos Aires, Argentina, el 11 de abril de 1916. Murió en Ginebra, Suíza, el 25 de junio de 1983.
Su primer trabajo importante fue el ballet Penambí, que lo hizo conocido en toda Argentina.
De 1945 a 1948 abandona su país debido a su pésima relación con Perón. Va para Estados Unidos, donde estudia con Copland y Tanglewood.
Cerca de 1956 expande su estilo musical más allá de los límites de la nacionalidad. Es la época de excelentes trabajos.
En 1969 sale nuevamente de Argentina y va a vivir en Ginebra, Suíza.
Su música es esencialmente tradicionalista. Una ecléctica síntesis de técnicas de varias escuelas musicales está evidente en su composición más famosa, la ópera Bomarzo.
Quedó famoso como compositor de fuerte sentimiento nacionalista, a pesar de haber influencias de la música internacional que se producía en Europa después de la Segunda Guerra Mundial.
Su obra puede ser dividida en 3 períodos: nacionalismo objetivo, nacionalismo subjetivo y neo-expresionismo.
Sus primeros trabajos pertenecen al primer período. Él caracterizó ese período como una etapa de "nacionalismo objetivo" en el cual las características de la música folklórica se reproducían abiertamente. Usa el folklore argentino y es influenciado por Stravinsky, Bartok y Falla. Son de este período: Danzas Argentinas op. 2 para piano, Estancia (ballet), las Cinco Canciones Populares Argentinas, Las horas de una estancia y Pampeana nº 1. El estreno de la suite orquestal de su ballet Estancia, consolidó su posición dentro de Argentina.
A partir de 1948 comienza a usar técnicas de composición más avanzadas. Es el período de nacionalismo subjetivo, sin posiciones revolucionarias. Abandona los elementos populares tradicionales a pesar de continuar a usarlos simbólicamente. Jamás abandona las tradiciones argentinas. Son de esta fase Pampeana n. 3 para orquesta, y Sonata para piano n. 1. Durante ese segundo período, que comienza con la Sonata para piano, Ginastera adoptó la técnica dodecafónica. Su concepción a respecto de la técnica siempre fue libre y totalmente personal y su música tuvo siempre características inconfundiblemente nacionalistas. El Cuarteto de cuerda nº 2 tiene la misma calidad rítmica que aparecía en sus primeras obras y, a pesar del uso de técnicas dodecafónicas, ese cuarteto es esencialmente tonal. En este período las características étnicas, a pesar de presentes con una forma sublimada, se aplican de una manera menos consciente
El período neo-expresionista, comienza aproximadamente en 1958. Está marcado por una busca continua de los procedimientos técnicos más avanzados y una disminución de la importancia que hasta poco otorgara a las características nacionales explícitas. No hay más folklore pero continúa habiendo elementos argentinos, como él mismo dijo. Además de una aproximación cada vez mayor a la forma dodecafónica, respondió a algunas de las nuevas corrientes que surgieron después de la Segunda Guerra Mundial integrando ciertos aspectos de la composición aleatoria y microtonal dentro de su propia orientación estilística general. Las obras más importantes de este período fueron las óperas Don Rodrigo, Bomarzo y Beatrix Cenci, que tuvieron gran éxito y lo situaron como el compositor latinoamericano más importante de su tiempo. De este último período tenemos aún dos Conciertos para piano, un Concierto para violín, el Popul Vuh para orquesta, el Concierto n. 2 para cello y orquesta y la Cantata para América Mágica.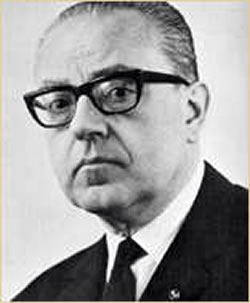 Biography
Was Born in Buenos Aires, Argentina, April 11 1916. He died in Geneva, Suíza, June 25 1983.
Their first important work was the ballet Penambí that made it well-known in all Argentina.
Of 1945 at 1948 abandons their country due to their terrible relationship with Perón. He goes for United States, where he studies with Copland and Tanglewood.
Near 1956 he expands their musical style beyond the limits of the nationality. It is the time of excellent works.
In 1969 it leaves Argentina again and he/she will live in Geneva, Suíza.
Their music is essentially traditionalist. An eclectic synthesis of technical of several musical schools is evident in its more famous composition, the opera Bomarzo.
It was famous as composer of strong nationalist feeling, in spite of having influences of the international music that took place in Europe after the Second World War.
Their work can be divided in 3 periods: objective nationalism, subjective nationalism and neo-expressionism.
Their first works belong to the first period. He characterized that period like a stage of objective nationalism in which the characteristics of the folkloric music reproduced openly. It uses the Argentinean folklore and it is influenced by Stravinsky, Bartok and Falla. They are of this period: Danzas Argentinas op. 2 for piano, Estancia (ballet), the Cinco Canciones Populares Argentinas, Las Horas de una Estancia and Pampeana nº 1. The premiere of the orchestral suite of its ballet Estancia, consolidated its position inside Argentina.
Starting from 1948 it begins to use technical of more advanced composition. It is the period of subjective nationalism, without positions revolutionaries. He abandons the traditional popular elements in spite of continuing to use them symbolically. He never abandons the Argentinean traditions. They are of this phase Pampeana n. 3 for orchestra, and Sonata for piano n. 1. During that second period that begins with the Sonata for piano, Ginastera adopted the twelve-tones technical . Their conception to regarding the technique it was always free and completely personal and their music always had characteristic unmistakably nationalist. The Quartet of string nº 2 has the same rhythmic quality that he/she appeared in its first works and, in spite of the use of twelve-tones technical , that quartet is essentially tonal. In this period the ethnic characteristics, in spite of present with a heightened form, are applied in a less conscious way.
The period neo-expresionist, begins approximately in 1958. It is marked by a continuous search of the most advanced technical procedures and a decrease of the importance that it granted to the explicit national characteristics until little. There is not more folklore but it continues there being Argentinean elements, as him same he/she said. Besides an approach every bigger time to the twelve tones form, he responded to some of the new currents that arose after the Second World War integrating certain aspects of the aleatory composition and microtonal inside their own general stylistic orientation. The most important works in this period were the operas Don Rodrigo, Bomarzo and Beatrix Cenci that had great success and they located it as the most important Latin American composer in their time. Of this last period we still have two Concerts for piano, a Concert for violin, the Popul Vuh for orchestra, the Concert n. 2 for cello and it orchestrates and the Cantata for Magic America.
---
Principales Obras
Operas
Don Rodrigo, Opus 31 (1963-64)
Bomarso, Opus 34 (1966-67)
Beatrtx Cenci, Opus 38 (1971)
Ballet
Panambí, Opus 1 (1934-36)
Estancia, Opus 8 (1941)
Obras para Instrumento Solista y Orquesta
Concierto para Cello N0 1, Opus 36 (1968)
Concierto para Cello N0 2, Opus 36 (1980)
Concierto para Arpa, Opus 25 (1956)
Jubllum (1981)
Concierto para Piano N0 1, Opus 28 (1961)
Concierto para Piano N0 2, Opus 39 (1972)
Concierto para Violín, Opus 30 (1963)
Obras para Voz y Orquesta
Cantata Bomarzo, Opus 32 (1964)
Cantata para América Mág¡ca, Opus 27 (1960)
Milena, Opus 37 (1971)
Serenata, Opus 42 (1973)
Sinfonía Don Rodrigo, para Soprano y Orquesta, Opus 31a (1964)
Obras para Coro y Orquesta
Salmo 150, Opus 5 (1938)
Turbae ad Passionem Gregoriana'n, Opus 43 (1974)
Música de Cámara
Serenata, Opus 42 (1973)
Quinteto, Opus 29 (1963)
Cuarteto de Cuerdas N0 1, Opus 20 (1948)
Cuarteto de Cuerdas N0 2, Opus 26 (1958)
Cuarteto de Cuerdas N0 3, Opus 40 (1973)
Música Instrumental
Pampeana N0 1, Opus 16, para violín y piano (1947)
Pampeana N0 2, Opus 21, para cello y piano (1950)
Punefla N0 2, "Homenaje a Paul Sacher", Opus 45, para cello solo (1976)
Toccata, Villancico y Fuga, Opus 18, para órgano (1947)
Música para Piano
Sonata N0 1, Opus 22 (1952)
Toccata (Zipoll - Ginastera) (1973)
Obras para orquesta
Danzas pan el ballet Estancia, Opus 8' (1941)
Estudios Sinfónicos, Opus 35 (1967)
Obertura para el Fausto Criollo, Opus 9 (1943)
Ollantay, Opus 17 (1947)
Pampeana N0 3, Opus 24 (1954)
Panambí, Opus la (Suite para el ballet) (1934-36)
Variaciones Concertantes, Opus 23(1953)
Concierto para Cuerdas, Opus 33 (1965)
Glosas sobre temas de Pablo Casals, Opus 46 (1976)
Principales Invitaciones y Becas

Fundación Guggenheim (1942 y 1969); Departamento de Estado de los Estados Unidos (1958); Senado de Berlín Occidental(1965); Ministerio de Relaciones Exteriores de Francia (1966); Dartmouth College, USA (1968).

Encargos

Lincoln 'Untein para el Ballet Caravan (1941)

Festival de Pittsburg (1952)

Asociación Amigos de la Música de Buenos Aires (1953)

Louisville Orchestra (1954)

Edna Phllips (1965)

Fundación Elizabeth Sprague Coolldge (1964 y 1968)

Fundación Fronun (1961)

Fundación Doussevitzky en la Bibl¡oteca del Congreso - USA(1961)

New York Philhannonic Orchestra para su temporada inaugural en el Lincoln Center (1962)

Mozarteum Argentino (1963)

Washington Opera Society (1967)

Orquesta de Vancouver para el Centenario de Canadá (1967)

Dartmouth College (1968)

Orquesta Sinfónica de Indianápolis (1969)

Juilliard School of Music para la inauguración de su nuevo edifi­cio en el Lincoln Center (1969)

Washington Opera Society para la inauguración del Kennedy Memorial de Washington

(1969)

Distinciones

Miembro de Número de la Academia Nacional de Bellas Artes.
Profesor Emérito de la Pontificia Universidad Católica Argentina
Oflcial de la "Orden de las Artes y las Letras" del Gobierno de Francia
Doctor en Música de la Universidad de Yale, de Estados UnidoL Académico Honorario de la American Academy of Arts and Letten.
Miembro de la Academia Brasileira de Música, de la Facultad de ciencias Artes Musicales de la Universidad de Chile y de la Academia de Artes y Ciencias de Boston.

Extraído de "La Guía de la Música Argentina" (1982) editada por el Instituto Lucchelli Bonadeo
Realizó la Música de las siguientes peliculas
1. Hay que bañar al nene (1958)
2. Primavera de la vida (1958)
3. Enigma de mujer (1956)
4. Los maridos de mamá (1956)
5. Su seguro servidor (1954)
6. Caballito criollo (1953)
7. Facundo, el tigre de los llanos (1952)
8. El puente (1950)
9. Nace la libertad (1949)
10. Rosa de América (1946)
11. Malambo (1942)
Mp3 en la Web
---
Video
---

Fotos / Photos